Practical information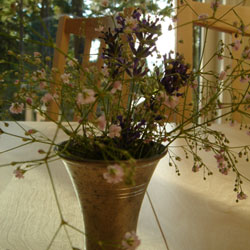 You can only reach the island by boat. There are no connecting bridges or car ferries to Utö. From Årsta Brygga the boats frequently leave for Utö and there is also a parking lot for cars. When paying the parking fee (by cash or by major credit cards), you can use the ticket as a voucher valued for SEK 40 to be used on the boat or at shops and restaurants at Utö.
Getting here
By public transportation from Stockholm you take the 'pendeltåg' (commuter-train) from Stockholm Central to Västerhaninge. From 'Västerhaninge centrum' take the connecting bus (846) to Årsta Brygga.
Transporting your car to the island is not recommended as there is no bridge or regular car-ferry to the island. The best option is to park your car at Årsta Brygga (near Västerhaninge), as the boat to Utö leaves frequently from there. The parking is very close (less than 100m) to where the boat leaves from. Make sure to allow some time to find a parking space. Please note that Årsta brygga / Årsta havsbad (close to Västerhaninge) is NOT the same as Årsta (close to downtown Stockholm).
If you are arriving from Stockholm, take the road 73 towards Nynäshamn and turn at "Trafikplats Fors". Follow the signs to Årsta Havsbad. Turn right when you see the sign to "Årsta Brygga". For timetables and rates, please see the website of Utö Rederi.
Also see the travel route given by Ryan Anderson.
Transportation costs
In summertime it will cost ca 80 SEK day 1. You will get a voucher for a value of 40 SEK which can be used for purchase on the boat or at Utö, the rest of the days it will cost SEK 40. The boat ride costs ca 65 SEK per grown-up and ca 45 SEK for seniors and children aged between 7 and 19 years. Children younger than 7 years go for free. A bicycle costs ca 30 SEK extra per bicycle and you can only bring the bicycle onboard if there is space. For exact and up to date costs please see Utö Rederi.
Baggage on the boat
You bring your baggage on the boat from Årsta brygga. Unless you're planning on bringing very big items, such as bicycles, babycarriages etc, it's not a problem bringing the baggage onboard. If you do have big items such as the above, try to take an early morning boat, as the boats in the afternoon and mid-day are quite full with (day-)tourists already and you may have to take the next boat.
Upon arrival to Näsudden brygga, take the road straight ahead passing the brown houses. We live in the first red house on your right hand. The house is 1 km from the church of Utö and Spränga Brygga, where you can find a kiosk and a small harbour.
More information
You can find some valuable information on the website of Utö Rederi. During summertime you can also go by boat from Nynäshamn to the southern island of Utö, called Ålö. Rental bikes are available and can be returned at the northern part at Hamnboden, Gruvbryggan, and vice versa. To reach Utö from Stockholm, the boat leaves from Strömkajen, at Grand Hotel. Timetables can to be found the website of Waxholmsbolaget. To reach our house at Näsudden it is important to inform the crew that you would like them to make a stop at Näsudden (marked with x in the timetable). Usually the captain tells you which stop they are entering, Gruvbryggan is the major one, 4 km from Näsudden.
Take a walk to the right through the woods and summerhouses and you will reach Edesnäs and Pizzastugan. At the small village, Pizzastugan offers some food, ice-cream and beverages and they also have some entertainment during July. If you continue the main road and you will reach Hembygdsgården and Utö Skola (school). From there, you have ca 3 km to Gruvbryggan with an ICA food-store where you can buy stamps and also order wine, liquor and beer. You can also find some nice, traditional shops, a bakery, Utö Tourist Office and some restaurants and bars. Don't forget Sydvästen, a nice shop with gifts on the way up to Utö Värdshus. You can also visit the museum about the mines or Utö windmill.
In December there are Christmas markets during three weekends and more boats come to Gruvbryggan. You can order a taxi if you want to stay at Näsudden. Utö Värdshus is famous for its buffet around Christmas. Please keep in mind that there are no teller-machines on the island. Most restaurants and shops accept major credit cards. If available, you may get some extra cash when paying by credit card.
Please e-mail us for additional information.
We look forward to seeing you!